In this post you will learn 7 simple steps to index your website in the Google search engine and allow you to have a better relationship with the platform and improve your web positioning, I invite you to continue reading this wonderful article.
7 steps in Google to index your web quickly
Nowadays, we must always be updated with the latest trends in each sector in which you find yourself. If your world is the digital medium you have to be aware of the changes since every second new work tools appear where you should be alert of the changes offered by the technology, as is the case of Google with its changes of algorithms that are They do it a lot.
In the internet there are millions of people connected daily, if you have a website for your business, the first thing you should do is search in Google the way you crawl and index your website in the fastest way.
You have to find a way to index in Google and in the rest of the search engines so that people can easily find your web page.
In the following link you can find the ways to request that Google re-crawl the URLs.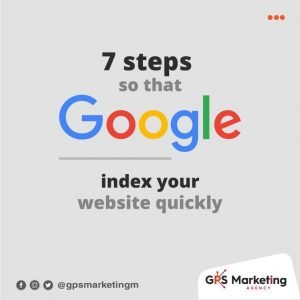 In this article we will show 7 simple steps in which they will be of great help to quickly and easily index your website in the Google search engine. The question would be: What can I do to get Google to index my website?
One of the first steps to take into account is to send the URL of your website to Google, this function can be done by the Google Search Console tool, it is a page designed specifically to be more updated with Google of any change made on the page web, it is very important that at the time of making a new change on the web, sent to review the page to Google to re-index it with the new changes made on the page of the company.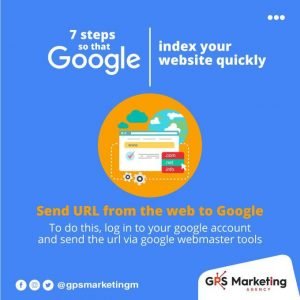 As a second step you can create a Sitemap, it is an XML document which shows each page of the website as the information of the pages that form your website, there are widgets that help to automatically create the sitemap and it notifies Google when it should review the website, it is very important when creating the sitemap to send to the webmaster tool of Google.
As a third step we have social networks, linking the networks to the website is a quick way to index your site in the search engines by means of robots, in which these move through links and visit many social networks, this will help that your website is better linked to Google.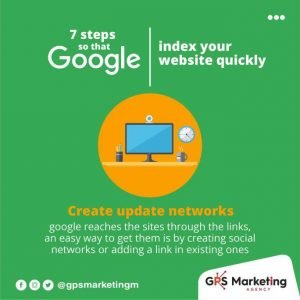 In the fourth step we must make relationships with influential people in the subject, in order to find some direct link to your Web or Blog through content exchanges and in turn help to get direct links to your website. There are other strategies to get links, such as writing a comment on the blog of a different article, asking for an opinion or inviting him to write an article and mentioning your name.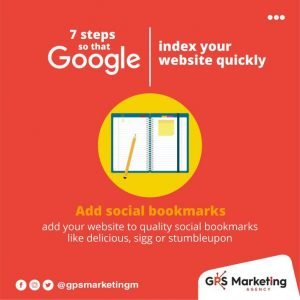 The fifth strategy is link building, as we mentioned in the SEO article in the following link, we saw how SEO is of great importance in content creation strategies and in turn for search engines. A good implementation and use of this strategy can place you in the first places of the most important search portals such as Google or Bing.
Link building is a link strategy through links through forums, blogs, quality content in the most important portals.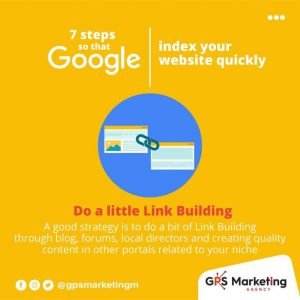 In the sixth step we have the results, as it is said in the digital world but there is a result there are no improvements, through the results we can make changes on time in order to seek improvements and always as advice to have a contingency plan to achieve make immediate changes. (Remember that you always have to stay one step ahead of the competition).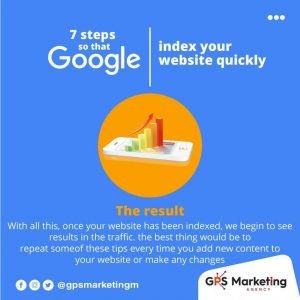 Finally we have Google Analytics, it is a tool that Google gives us and which fulfills super important functions to analyze your company or website. This page when indexing it to our website gives us real analytical data, updated and that in one way or another helps us to analyze how our business is going and in turn the behavior of the website.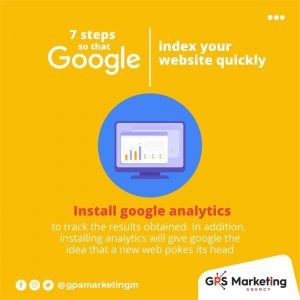 Conclusion
When you have your website indexed, you will begin to receive a greater volume of traffic through search engines like Google, you must continue creating valuable content on your website, applying SEO techniques such as link buildings, relationships with portals, internally indexing your content, in the same way share in your social networks, this will help to have an updated website.
If you want to learn more about how to index your website correctly, I invite you to look for an agency specialized in the subject such as GPS Marketing.
Companies like METROBLOCK and SFCSTRIKER are companies that have requested our services for a better indexation of their site in the Google platform. We also invite you to visit our website in Spanish GPS and where you can find articles related to your interest which can be used in your Digital Marketing strategy.